Geraldine Martinez' artworks in New York online exhibition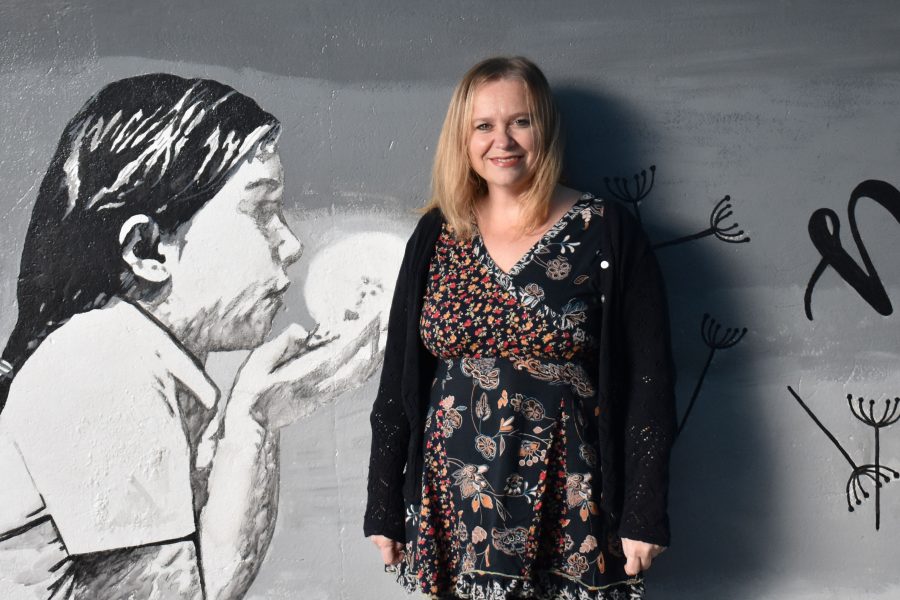 By Eileen Gomez, Gibraltar Chronicle, 18th April 2022.
Local artist Geraldine Martinez has been exhibiting in a New York based online exhibition called the 'Healing Power of Color'.
Ms Martinez had been doing some research on art galleries with an interest in environmental themes and came across the Healing Power of Art and Artists who were organising the exhibition.
"The theme of the online exhibition really spoke to me," she told the Chronicle.
"When I was doing my murals, I kept being told how the treatment of my subject matter and the bright colours of my work had a positive effect on people as they passed by."
"The more I considered this, the more I realised that my art could potentially have the power to heal."
"Mental health is important to me, having suffered from anxiety myself, so I wanted to explore this further. And then I came across this website. As they say, there are no coincidences in life."
She was allowed to enter up to six pieces of work and needed to submit a statement giving the curators an understanding into the work and how that work was approached.
The worldwide competition and exhibition was hugely popular with entries received from all around the globe.
Ms Martinez entered the competition with no expectations.
But after being so sought after since her first mural piece and then going on to win a Gibraltar Cultural Award for her work she felt it was time to let the rest of the world see what she could create.
"I felt that it was time to put my art 'out there', something I had never had the courage to do previously," she said.
This lack of courage stemmed from a 20 year sabbatical she had taken from the art world leading her to believe that she had a lot of catching up to do to be considered a credible artist.
"So the fact that I had applied to an international audience was already a win for me," she said.
Narrowing down the piece to submit would have no doubt been hard but given the theme of colour it was made a little easier.
As a result she submitted three of her iPad landscape paintings and two photos of her murals.
"They chose one of the iPads "Orange Sunset" to feature in their website in the end," she said.
"They can only feature one piece but the link to my website is there so viewers can go to my website and explore my work further."
While she has not received any outside contact regarding her pieces there is a chance she will.
"The exposure is huge though as it is curated by a New York promoter so fingers crossed," she said.
Since returning from that sabbatical and winning awards and featuring in international exhibition she continues to create new opportunities for her, for art and for artists of all ages.
"Since last year I have embarked on a wonderful journey teaching art to children between the ages of 7-13," she said.
"I would say that the mural commissions has changed my life. I kept being asked by parents whether I did art classes. After two years procrastinating on the idea, I finally took the plunge and I've not looked back. It is hugely rewarding."
In addition to the children's classes she has also recently started an 'Art Club' for adults which she does on Thursdays at the Leisure Centre which is proving very popular.
"We are having a lot of fun learning technique work as well as producing something that my students can be proud of," she said.
Without giving away too much she also noted that she has a new mural coming up imminently at the Yoga Centre and is in talks with another company for the same.
"As well as juggling my day job as graphic / website designer and being a mum. Life is certainly not boring," she said.
Ms Martinez' website is https://geraldinemartinezart.com and the exhibition can be viewed online: https://www.healing-power-of-art.org/the-healing-power-of-color-exhibition-2022/
For full article, click here.